AISI D3 cold work steel, also know as DIN 1.2080 (Werkstoff) and JIS SKD1, is a 12% chrome alloy steel. D3 cold work steel has very high wear resistance against abrasive and adhesive wear due to the high volume of hard carbides in the steel matrix, medium toughness, dimensionally stable, high compressive strength, not secondary hardenable. Type AISI D3 cold works tool steel is oil-quenched; though small sections can be gas quenched after austenitization using vacuum. As a result, tools made with type D3 cold work tool steel tend to be brittle during hardening. Type D2 tool steel is the most commonly used steel among the group D steels. The D3 cold work steels contain 1.5 to 2.35% of carbon and 12% of chromium.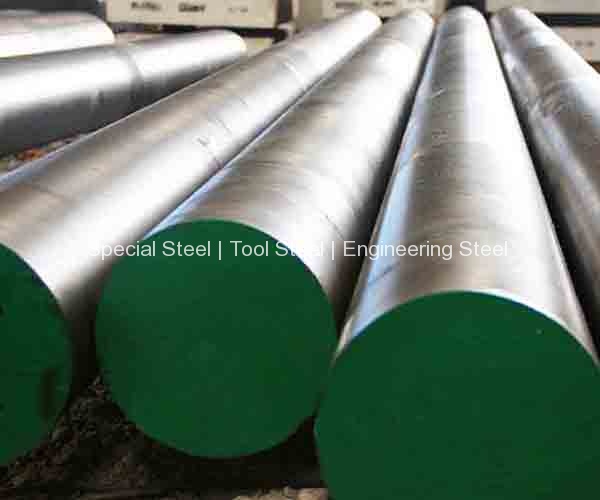 AISI D3 alloy steel is heat treatable and will offer a hardness in the range 58-64 HRC. After heat treatment D3 tool steel is hard, durable and dense, and is immune from sinking in use. It offers a measure of corrosion resistance when polished. In general, the applications of AISI D3 tool steel resemble those of D2 tool steel but it should be remembered that alloy tool steel D3 has better wear resistance of the two steels and is preferred for such items as shear blades. Owing to its higher wear resistance, AISI / ASTM D3 cold work steel is slightly more difficult to grind than D2 steels.
1. Supply Range of AISI D3 Cold Work Steel
D3 Tool Steel Round Bar: diameter 8mm – 350mm
D3 Steel Plate: thickness 2mm –300mm x width 200mm – 800mm
D3 Steel Slab: 200mm x 500-800mm
Surface Finish: Black, Rough Machined,Turned or as per given requirements.
2. Relevant Grade D3 Cold Work Steel Specifications & Equivalents
3. D3 Cold Work Steel Chemical Composition and Equivalent Grades
ASTM A681
C
Mn
P
S
Si
Cr
V
T
Mo
D3
2.00
2.35
0.10
0.60
0.03
0.03
0.10
0.60
11.00
13.50
. . .
1.10
. . .
1.00
. . .
. . .
DIN ISO 4957
C
Mn
P
S
Si
Cr
V
T
Mo
Ni
1.2080/X210Cr12
1.90
2.20
0.20
0.60
0.10
0.60
11.00
13.00
–
–
–
–
–
–
JIS G4404
C
Mn
P
S
Si
Cr
V
T
Mo
Ni
SKD1
1.90
2.20
0.20
0.60
0.03
0.03
0.10
0.60
11.00
13.00
–
–
–
–
–
–
4. Mechanical Properties of D3 Cold Work Steel
| | | |
| --- | --- | --- |
| Mechanical Properties | | |
| Properties | Metric | Imperial |
| Izod impact unnotched | 28.0 J | 20.7 ft-lb |
| Poisson's ratio | 0.27-0.30 | 0.27-0.30 |
| Elastic modulus | 190-210 GPa | 27557-30457 ksi |
| | | |
| --- | --- | --- |
| Properties | Metric | Imperial |
| Density | 7.7 x 1000 kg/m3 | 0.278 lb/in3 |
| Melting point | 1421°C | 2590°F |
Properties
Conditions
T (°C)
Treatment
Thermal expansion
12 x 10-6/ºC
20-100
–
5. Forging of D3 Cold Work Tool Steel
Pre-heat at 900-950°C then raise temperature to 1050-1100°C. Soak until uniformly heated. D3 tool steel is relatively hard at elevated temperature. Therefore, initial hammer blows must be light and the temperature must not be allowed to fall below 1020°C until the metal begins to flow. Final forging should not be done below 900°C.
6. Heat Treatment of D3 Cold Work Steel
D3 tool steel requires hardening and tempering to achieve maximum properties. For maximum accuracy, the parts of D3 tool steel should be stress relieved after roughing operations. Stress should be relieved at 648°C (1200°F) for one hour and cooled slowly.
Heat D3 tool steels uniformly to 850-870°C, soak thoroughly, then slow furnace cool at a rate of not more than 25°C per hour to 650°C. The parts may then be air cooled. This should result in a maximum hardness of brinell 248.
The D3 cold work steel should be cooled to room temperature and should be tempered immediately. The parts should be placed in the tempering furnace and increased slowly to the desired tempering temperature. Tempering for 1 hour per inch of thickness is required.
D3 tool steel is extremely sensitive to overheating during hardening – do not overheat.
Pre heat slowly to 800-850°C, the raise rapidly to 950-970°C and soak until completely equalised. Quench in oil.
7. Applications of AISI D3 Cold Work Tool Steel
AISI D3 Cold Work Steel has high strength, good hardenability and wear resistance. D3 is suitable for applications such as complex blanking and forming tools for long runs and for hard and abrasive materials.
Typical Applications:
Highly stressed cutting
Punching tools for thin sheets,
Shear blades for cutting
Profile rolls,
Drawing and deep drawing tools,
Stone processing tools,
Knives for paper and plastics,
Shear knives for thin sheets.
Deep drawing,
Pressure pads
Highly wear-resistant plastic moulds.
We are reliable AISI D3 cold works tool steel stockist and supplier with quality guarantee. Please contact us for any request of D3 tool steels materials. We are a better choice for you.