AISI A2 tool steel is one of 'A' group cold works steel in ASTM A681 standard. A2 Tool Steel is a versatile, air hardening chromium alloy tool steel that replaces O1 tool steel when safer hardening, less distortion and increased wear resistance are required. AISI type A2 steel is intermediate in wear resistance between O1 oil-hardening tool steel and D2 high-carbon, high-chromium tool steel.
AISI Steel A2 is heat treatable and will offer a hardness in the range 57-62 HRC. ASTM grade A2 steel delivers good toughness with medium wear resistance and is relatively easy to machine. Tool Steels A2 are used in many applications which require good wear resistance as well as good toughness.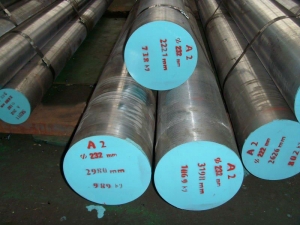 Characteristics of A2 tool steel include:
good machinability,
high compressive strength,
high dimensional stability after hardening and tempering.
Good hardenability, very good non-deforming properties, deep hardening,
Good wear resistance
AISI A2 tool steel provides an effective combination of strength and toughness, tool performance, price, and a wide variety of product forms. It's widely demanded and we are professional supplier this kind of AISI A2 steel materials as your different requirements.
Supply Range of ASTM A2 Tool Steel
A2 Tool Steel Round Bar: diameter 8mm – 800mm
A2 Steel Plate: thickness 2mm –300mm x width 200mm – 800mm
Other sizes of A2 steel or as per customer's requirements
Surface Finish: Black, Rough Machined,Turned or as per given requirements.
Relevant Steel Specification of A2 Tool Steel
AISI A2 Tool Steel Chemical Composition & Other Equivalents
ASTM A681
C
Mn
P
S
Si
Cr
V
Mo
A2/T30102
0.95
1.05
0.40
1.00
0.03
0.03
0.10
0.50
4.75
5.50
0.15
0.50
0.90
1.40
DIN ISO 4957
C
Mn
P
S
Si
Cr
V
Mo
1.2363/X100CrMoV5
0.95
1.05
0.40
0.80
0.03
0.03
0.10
0.40
4.80
5.50
0.15
0.35
0.90
1.20
JIS G4404
C
Mn
P
S
Si
Cr
V
Mo
SKD12
0.95
1.05
0.40
0.80
0.03
0.03
0.10
0.40
4.80
5.50
0.15
0.35
0.90
1.20
BS 4659
C
Mn
P
S
Si
Cr
V
Mo
BA2
0.95
1.05
0.30
0.70
0.035
0.035
. . .
0.40
4.75
5.25
0.15
0.40
0.90
1.10
ASTM A2 Tool Steel Mechanical Properties
Temperature
68°F
375°F
750°F
(20°C)
(200°C)
(400°C)
Density
lbs/in3
0.279
0.277
0.275
kg/m3
7 750
7 700
7 650
Modulus of elasticity
psi
27.5 x 106
26.9 x 106
24.6 x 106
N/mm2
190 000
185 000
170 000
Coefficient of thermal expansion
per °F from 68°F
–
 6.5 x 10–6
–
per °C from 20°C
–
11.6 x 10–6
–
| | | |
| --- | --- | --- |
| Properties | Metric | Imperial |
| Hardness, Rockwell C (as air-hardened (63-65 HRC average), 60-62 HRC at 205°C, 59-61 HRC at 260°C, 58-60 HRC at 315°C, 57-59 HRC at 370°C and 425°C and 480°C, 56-58 HRC at 540°C, 50-52 HRC at 595°C, 42-44 HRC at 650°C) | 64 | 64 |
| Bulk modulus (typical for steels) | 140 GPa | 20300 ksi |
| Machinability (based on carbon tool steel) | 65% | 65% |
| Shear modulus | 78.0 GPa | 11300 ksi |
| Poisson's ratio | 0.27-0.30 | 0.27-0.30 |
| Elastic modulus | 190-210 GPa | 27557-30457 ksi |
Forging of ASTM A2 Tool Steel
Heating A2 steel for forging must be done slowly and uniformly. Heat the steel A2 slowly to 700°C then more rapidly to 1050-1100°C. Avoid working below 899°C(1650°F). Reheat AISI A2 steels as often as necessary to maintain proper forging temperature. After forging cool very slowly in lime, mica, dry ashes or furnace. AISI A2 steel should always be annealed after forging.
AISI A2 Tool Steel Heat Treatment
After heavy grinding or machine it is advisable to stress relieve tool steel A2 to reduce the danger of cracking or distortion during subsequent heat treatments. Heat slowly to 670-700°C, soak for a minimum of two hours per 25mm of section then cool down in the furnace.
To prevent decarburization use a controlled atmosphere furnace or pack in a sealed container using some inert material. To anneal A2 tool steel for lowest hardness, heat slowly to 899°C(1650°F) and hold at this temperature for about two hours per inch of greatest cross-section. Cool steel A2 at a rate of 20°F (10°C) per hour to 650°C (1200°F) and reheat to 732°C (1350°F); hold 3 hours per inch of greatest cross-section; furnace cool at 20 degrees per hour to 593°C (1100°F); then furnace-cool to 482°C (900°F) and air-cool.
Preheating temperature: 1200–1380°F (650–750°C). Austenitizing temperature: 1700 –1780°F (925–970°C) but usually 1720–1760°F (940–960°C).
Choose the tempering temperature according to the hardness required by reference to the tempering graph.
Heat uniformly and thoroughly to the desired temperature and hold for 25 minutes per cm of thickness. Tool steel A2 can be double tempering, after intermediate cooling to room temperature. Temper at 200°C for a balance of hardness and strength or 350°C where strength is more important than hardness. A minimum holding time of 2 hours per inch of greatest cross-section should be used.
Quenching

Martempering bath or fluidized bed at 360–430°F (180–220°C) or 840–1020°F (450–550°C) then cool in air
Circulating air or atmosphere
Vacuum furnace with overpressure of gas at cooling
Oil (only for small and uncomplicated tools)
Nitriding will give a hard diffused surface layer which is very resistant to wear and erosion, and also increases corrosion resistance. Nitriding AISI A2 steels in ammonia gas at a temperature of 975°F (525°C) gives a A2 steel surface hardness of approx. 1000 HV1.
Nitriding
temperature
Nitriding time
Depth of case,
approx
°F
°C
hours
in.
mm
980
525
20
0.008
0.2
980
525
30
0.012
0.3
980
525
60
0.016
0.4
2 hours nitrocarburizing treatment at 1060°F (570°C) gives a surface hardness of approx. 900 HV1. The case depth having this hardness will be 0.0004–0.0008″ (10–20 µm).
AISI A2 tool steels are alloy steels and hence they are capable of being welded. However, welding of A2 tool steels are not much preferred due to the risk of crack formation. The following guidelines can be followed during the welding of A2 steels:
A. Welding in order to harden the soft annealed tool steel A2
Heat to austenitizing temperature
Cool to approx. 500°C (932°F)
Weld at approx. 500°C (932°F)
Cool to approx. 100°C (212°F)
Hard facing electrode
B. Repair welding of A2 tool steels in hardened and tempered condition
Preheat to the tempering temperature (min. 200°C) (392°F)
Weld at tempering temperature
Heat immediately to tempering temperature, but max. 300°C (572°F). Soak the steels for 3 hours
Cool in air to approx. 80°C (176°F)
Heat to tempering temperature. Soak for 2 hours
Hard facing electrode
C. Welding of soft annealed tool steel A2
Preheat to 300-500°C (572-932°F)
Weld at 300-500°C (572-932°F)
Stress relieve immediately.
Cr-Mo alloy electrode for welding structural steel
Machinability
A2 tool steels have medium machinability, about 85% that of the W group of tool steels which are rated at 100% for a baseline.
Applications for ASTM A681 A2 Tool Steel
AISI A2 tool steel takes a place between AISI O1 and AISI D2, offering an excellent combination of good wear resistance and toughness. It may be regarded, therefore, as a"universal" cold work steel.
For cutting operations the good toughness of AISI A2 steel gives excellent resistance to chipping of the cutting edge. In many cases tools made from this A2 steel have given better tooling economy than high-carbon, high-chromium steels of the D3/ W.-Nr. 2080 type. AISI steel A2 has much better machining and grinding properties
Typical Applications for AISI/ASTM A2 steels materials: Blanking dies, block and ring gauges, coining, cold forming, cold trimming and forming dies, cold shears, rolls, knurls and knurling tools, machine parts, mandrels, punches and punch plates, reamers, shear and slitter blades, stamping dies and threading tapes.